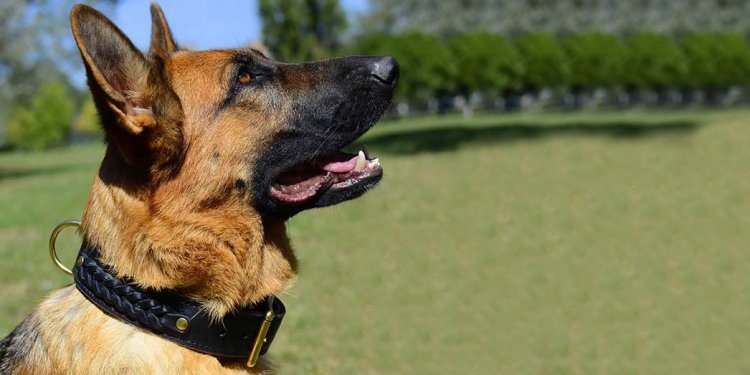 German Shepherd Dog harness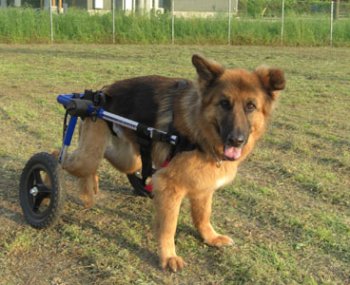 It is just 6 months since I was introduced to the term "DM." Specifically: "Degenerative Myelopathy (in) German Shepherd Dogs."
Now causing havoc amongst the larger breeds throughout the World. It seems that the more highly bred a dog is, the more likely they are to come down with DM.
As it is a genetic "auto immune system" disease, I assume rightly or wrongly that some unknown breeder, failed to comprehend what it was, and bred it into the stream that he/she was creating. Diseases like this normally are self-destructive, that is to say either it will not breed true, or kills its recipient, before it can be passed on. Degenerative Myelopathy unfortunately appears to breed true, and can be seen to have infected German Shepherds, and then passed across the breeds to other large dogs. This is only my theory, but I cannot see how any other diagnosis fits all the known facts.
What really annoys me is that Breeders know of this genetic fault, but as yet have failed to stop it being passed on. Ask most breeders and they will deny any knowledge. Most vets do not appear to be interested, although some have even had their own dogs come down with it. If you want to see just how massive this infection is, just run a search using either the full name or the initials Degenerative Myelopathy and see what results you get.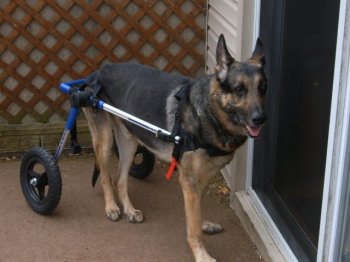 All over the world pet owners are crying out for help, some know what the disease is and others do not, or have been given incorrect reasons for their dog's sudden demise. Support Groups are thriving all over the Web, all offering advice, but none being of any constructive help. If humans were dying this fast, it would be considered a catastrophe, but each owner, living in their own little piece of hell, believes that their pet is just another casualty, and are unable or unwilling to see the greater picture.
Be assured that the medicine is not cheap (approx US$100/month) but as this was the only option, we had our vets issue a prescription, sent it to West Labs who shipped it almost immediately. Shane started his medication. I must admit that we did not notice any immediate improvement. In fact he went from being able to leap into the back of the car, to not even being able to climb unassisted onto our bed. Over the next month, he did show some signs of improvement for short periods, but then lost ground almost immediately. His walks that he loved, became shorter and shorter as he tired quickly, and dragged his back feet more and more. We should have thought of a dog wheelchair sooner, but the progression of the disease caught us off guard. He suffered no pain from DM, and only yelped one time when he had overstrained his chest muscles, trying to pull himself along on his front legs. A short course of 500mg coated aspirin (two night and morning for a couple of days) fixed the pain, until it went away naturally.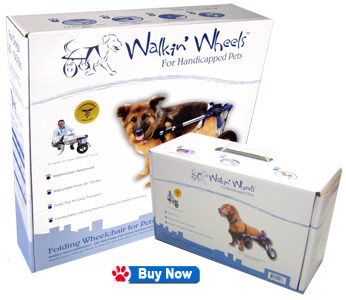 By now, being a really intelligent dog, he worked out that inside it was easier to stick his nearly useless back legs out sideways, and slide along on his butt, pulling himself with his front legs. This meant that he didn't have to try and raise himself onto his back legs, and fall. To get up onto his daybed (our couch) he would move himself, as above, and then wait for someone to raise him onto his rear legs. After he put his front feet onto the couch, he would wait for me to lift his back end, as he moved forward to lay on his blanket.
To go out, I bought a sling that went under his stomach, and he walked on his front legs with us lifting the back ones off the ground. At first when he reached his preferred spot, we could remove the sling and he would do his own thing, sometimes with my wife guiding him with his magnificent, but now almost useless tail. Finally, as winter approached, we had to support him with this tail, as the sling (he being a male dog) would be in the way.
My wife and I had decided months before, that as long as his insides continued to be under his control, and he was happy being with us, we would continue to do everything we could to assist him in living. To this point he continued to have that control, and so we looked for a dog wheelchair to give him the exercise he lacked.
The dog wheelchair(a story all in itself) arrived and I assembled it. This part was easy, but the minor adjustments, to fit him comfortably took a week or so. We found that very small adjustments was the way to go, as some made things worse, and had to be immediately undone. Having finally found the correct height, length etc. we were faced with two problems: 1) He, being a male dog, had the usual male fixtures, which being where the saddle rested to hold his rear end up, tended to get in the way. In the end we found that we had to strike a happy medium. Not too far forward that the front edge of the saddle trapped his pee-pee, and interfered with his urination; and not too far back that his sack and contents couldn't hang down freely, and out of the way when he wanted to poop. Even when correctly adjusted, pooping had to be accomplished by holding the top rear rail, and pulling back slightly, so as to draw his rear legs forward, and allow his rear end to face slightly downwards. Finally putting his tail over that rear bar, allowed him to poop cleanly and not soil himself.
At first we found that the saddle tended to rub the inside of his crotch, but adding a piece of soft cotton sheeting, over the saddle and securing it in place by catching the four corners and pinning them together below, seemed to work fine. Any red spots could then be treated with talc and diaper cream, so allowing him to go for exercise every other day.
Because of his intelligence, he wasn't scared of the wheelchair, and worked out almost immediately, how to move forward and even use his rear legs again. I adjusted the dog wheelchair to place his rear feet flat on the ground, fitted them with boots "pawtectors" from Petsmart, to stop any damage from dragging. These were $23 for 4, and could be turned over when worn through. At first, each time it would take him a couple of steps before the rear legs started to work again, but once started they continued to do so for each walk period.
Share this article
Related Posts