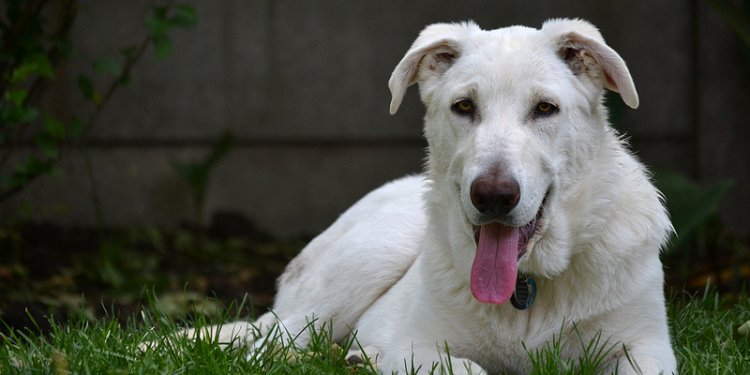 White GSD puppies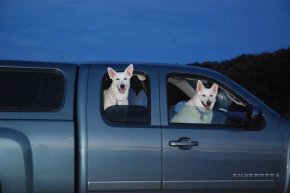 Faye and Glenn,
I just wanted to send a quick email to the both of you and thank you again for the wonderful GSD puppy from the January litter. "Nemo" has been the most well bred and spectacular dog that I have ever had the pleasure of owning. He's a wonderful companion and I can't imagine life without him. He's spoiled rotten and my family and friends have all fallen in love with him. He has the sweetest mild temperament and I have never seen skittishness, nervousness or fearfulness from him whatsoever. He's fearless, confident, assured, stubborn!, amazingly social and loves meeting strangers and other dogs. He's also very playful, inquisitive and has bonded very closely with me over the past few months. He's about 8mo old now and weighs 108lbs as of yesterday. He's a gorgeous dog and I get compliments on him just about everywhere I go. If you'll remember, he had a brief episode of demodex mange that you helped me out with and I really hope that communication didn't make you hesitate to cross the sire and dam again as in hindsight it was such a minor thing and I continue to be so impressed with him as he grows up. I'm honestly not even sure it was demodex as I think I pulled a tick off his snout and it turned into a hot spot along with another spot very close to it. Regardless, it cleared up in about 3 weeks and he's been utterly healthy and have had no issues whatsoever. Anyway, I always tell people about your farm if they ask where I got him so hopefully it sends more business your way. I'm really impressed by the breeding standards and the attention you pay to the dogs as it really shows. I hope both of you are in good health and are doing well. I hope we're starting to see the fall weather come around!
All the best,
Brown
Brown Robertson, MD
Assistant Medical Director
Saint Francis Hospital – Memphis
Hi Mrs. Hilliard!!
I just wanted to let you know how great Ellie May is adjusting to her new home! She is an AMAZING puppy. I get so many compliments on how beautiful and well behaved she is. She reached 30lbs at the vet today. Believe it or not she isnt afraid of thunderstorms or fireworks. She loves lemons, ice cubes, stealing my Coke, her squeaky dragon toy, and she's my little shadow! She still afraid of water, but she's getting there. She knows how to sit, come when called, shake, down, and howl. Shes the best dog ever. Thank you so much for this amazing puppy!!!
Here is a picture of Chardonnay (from Schneeberg Kennel in Colorado)and Zinfandel(from Rolling H Farms). Top pic is also Zinfandel (from Rolling H Farms). Sent from Donald Dewhurst.
Dan Fecteau
Faye,
Just wanted to say that I had 12 great years with Payton and would like to thank you for having given me the opportunity to enjoy his companionship. He is sick and I am having to put him down but I couldn't have asked for a more friendly and loyal dog. Although it is extremel difficult to say good bye he is going to a better place where they can enjoy his company too.
Thank you.
Sharron and Terry
Faye and husband,
Thanks again for meeting Lara to deliver Jack. She fell in love with him on the long drive home and wanted to keep him. He never had an accident in the car trip but she had to stop several times. Terry and Jack are enjoying each other very much. I know you place dogs all the time, but maybe not everybody stays in touch. You have given a little doggy a happy home.
Merry Christmas,
Thought you would like to know the Vet said today that Duke has a wonderful temperament. He sees a lot of GS puppies that are so willful you cannot even give them an exam, but Duke is perfect. We are very happy with him and he is going to be a perfect pet for us.
Thank you and good luck in this cold weather,
Best regards,
Charlotte Davis and Duke
Faye, dont know if you are still out there.. but once again I thought I'd send you a note to thank you for Molly. This is the most "spoiled rotten dog" in history of the world. If my memory is correct you picked her out for me because she was so playful. She is still very playful…but age is slowing her just a touch.
The executive chef here at the Hilton in Anchorage bakes her 4 peanut butter cookies every night. Every morning staff sneaks her several slices of bacon. She's lying here on the foot of the bed like normal and I just finished her nightly "tummy rub". She just turned 11 years old last month and December 5 is our 11th anniversary together.
Share this article
Related Posts