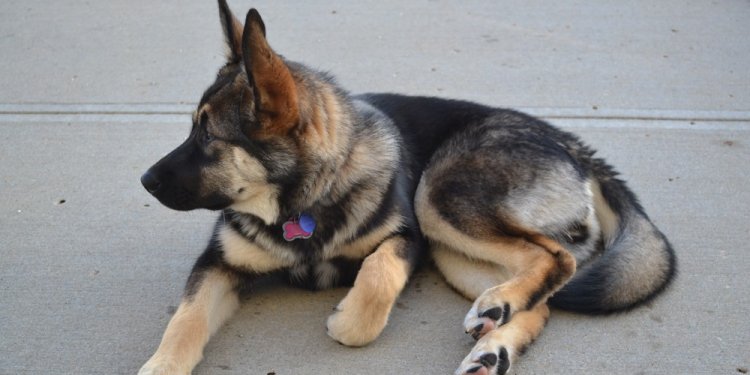 German Shepherd mix puppies Information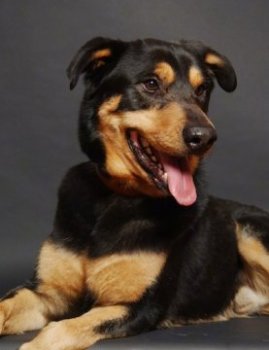 Information and Pictures
King Arthur the Rottweiler and German Shepherd mix at 6 years old—"King Arthur is an extremely loyal dog, a constant shadow always at my side. He is very smart and learns tricks in 2-3 tries. His primary obsession is fetch. He would probably play fetch until he passed out of exhaustion. Other favorite activities include, running, frisbee, long walks in our local park, swimming, shaking paws and training. He needs about an hour of good exercise and walking a day, but this is the minimum as he has lots of energy. KA is a great home protector and is always on the lookout for disturbances and potential burglars etc. He likes to camp out at our front door just in case he needs to bark and protect. He LOVES people and gets along well with babies and children. He does not bark much other than if he hears something he isn't sure of. He does not get along so well with other dogs. Some of them he likes, some he doesn't. He is a very food-motivated dog. If we didn't control his diet, he would probably get a little chub!.
Other Names
Rottweiler Shepherd
Rotten Shepherd
Rottie Shepherd
Shottie
Description
The Shepweiler is not a purebred dog. It is a cross between the German Shepherd and the Rottweiler. The best way to determine the temperament of a mixed breed is to look up all breeds in the cross and know you can get any combination of any of the characteristics found in either breed. Not all of these designer hybrid dogs being bred are 50% purebred to 50% purebred. It is very common for breeders to breed multi-generation crosses.
Recognition
DRA = Dog Registry of America, Inc.
Jeff the Shepweiler (Rottweiler / Shepherd mix) as a puppy at 6 months old standing on a park bench—"Jeff is very dynamic. He likes to think that he has everything under control and that he is the boss. He is strong, bites pretty hard and barks often and likes to run."
Toby the Shepweiler at 4 years old—"Toby is an international doggie! He lives in Hong Kong right now, but is proudly Canadian. He is the perfect example of a 'gentle giant' and will patiently sit still while kids that barely reach his head pet him and tug on his ears. Toby's favourite activities are swimming, going for long hikes and chasing after his favourite toys, rocks. He's the smartest dog and has many words that he understands; he cocks his head side to side when he's listening to you say walk, beach, dinner, hike, and anything else you may want to say to him, he's very attentive."
"Toby's got lovely long fur behind his ears and it goes crimped when he gets wet, or if it's really humid outside-just like people hair! He has the body of a big dog, but seems to think he's quite small as he jumps up to lay on your lap whenever he pleases. He has an odd habit, every time he hears a siren, he will run onto the balcony and howl until the siren sound is too far away for him to hear. Also, if he's laying down and sees you approaching, he instantly roll onto his back with complete inhibition! He's a big softie and our whole family is completely in love with our big fuzzy bear!"
Rocco the Shepweiler as a puppy at 2 months old—"Rocco is such a good dog, very intelligent, energetic, and always ready to play. He might not be pure, but he is the best dog we could ever have."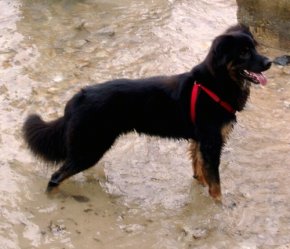 Rocco the Shepweiler as a puppy at 2 months old going for a ride in the car.
Kasey Mae the Shepweiler (Rottie / Shepherd mix) as a puppy at 5 months old out in the yard.—"Kasey's mother was an AKC Rottweiler and sired by a pure breed German Shepherd Dog. The mix is a protective guardian / herding dog with good looks, brains and devotion! This accidental breeding is growing in popularity. I think when the masses catch on to the versatility and personality of the mix I'm sure it will be a new breed in progress."
Kasey Mae the Shepweiler (Rottie / Shepherd mix) as a puppy at 4 months old.
Kasey Mae the Shepweiler as a puppy at 6 weeks old sitting outside by the car.
Layla the Shepweiler as a puppy at 3 months old wearing a red harness.—"Me and my girlfriend were looking for a fun and loving big dog. We ended up getting Layla, our Rottweiler/ Shepherd mix from the Los Angeles shelter. She was three months old when we got her and had her sister with her. We wanted to take both but we already had two other dogs. She is growing up real quick each and everyday. Layla has all the energy in the world and loves to play and interact with anything and anyone she comes across with. She loves to sleep right in between us but it will stop soon when she becomes a big dog."
Layla the Shepweiler as a puppy at 3 months old wearing a white t-shirt.
Layla the Shepweiler as a puppy at 3 months old taking a nap while wearing a white t-shirt.
Meika the Rottweiler / German Shepherd mix at 2 years old—"Meika has a personality that captures your heart. She is very obedient and loves to play ball. The funniest thing I have seen her do is if you have a water hose she will try to catch the water as it flys in the air. She would do this all day if you let her. This pic was just after she had a good playtime."
Ylee the Rottie / GSD as a puppy at about 3 months old sleeping in the grass
Reese the Rottweiler / German Shepherd mix at 2 years old laying down on the sofa
Jake the Rottweiler / German Shepherd mix at 3 years old out in the back yard
Dre the Rottie Shepherd as a puppy at 6 weeks old. His mother was a Rottweiler and his father was a German Shepherd
Chico the Rottie Shepherd as a puppy at 5 months old—"Chico he is a Shepherd / Rottie mix. He is 5 months old in this picture. We love him for his ears and especially when he turns his head sideways like this picture. He loves to run and play with my little dogs and thinks he is small. I call him Clifford the dog because he has tripled in size in 4 months."
"Hitter is a German Rottie / German Shepherd mix. He is the most amazing dog. Very loyal and an amazing guard dog yet gentle enough to play with my friends 3 children who range from 1 to 4 years old. He loves playing with our Husky and 2 cats. He does have an insane amount of energy and wants to play with his favorite rope and balls. He is afraid of thunder and motorcycles. I honestly think that he thinks is another dog growling. He loves to lay in between me and my husband at night on his back ) lol."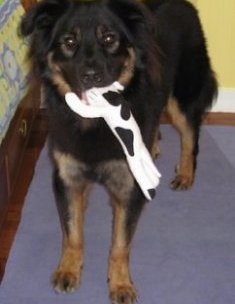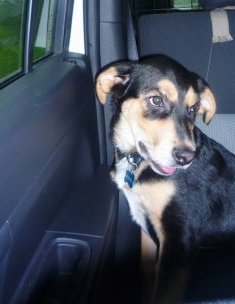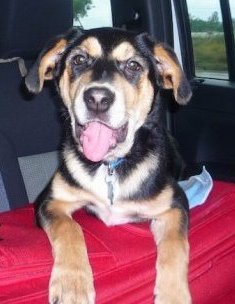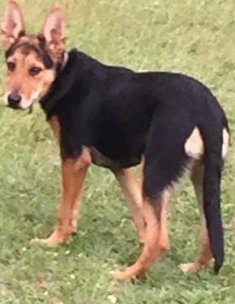 Share this article
Related Posts