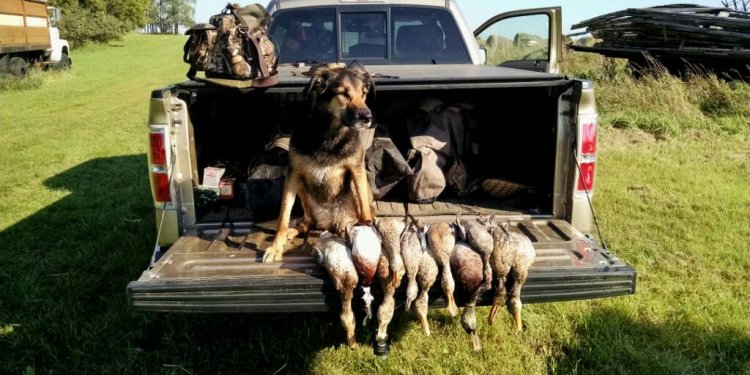 German Shepherd hunting Dog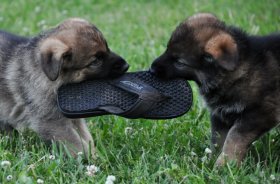 Puppy Buyer's Questionnaire
The Enriched Puppy Protocol™ (EPP) is the way we raise our puppies. Developed by Suzanne, EPP has proven itself with 3000+ puppies as part of the puppy raising programs at Guiding Eyes for the Blind, Fidelco Guide Dog Foundation, Southeastern Guide Dogs, Guide Dogs of America & Assistance Dogs of the West, as well as with private breeders. EPP even played a part in the handraising of 3 fox kits at Wolf Park, as well as helping private breeders maximize their puppies' potential. See my YouTube channel to watch day-by-day videos of our litters growing up.
Puppies are socialized from the moment they are born. EPP provides age appropriate stimulation and challenges to develop their minds and their bodies. Raised in our home, on our farm, puppies receive intense amounts of human contact, and grow up in an enriched environment to maximize their neuro-muscular development. The result is a coordinated, connected, competent and confident puppy.
Early Training Puppies are crate trained, leash broken and started with training before they leave our home. Their athletic ability is carefully & deliberately developed through indoor & outdoor challenges from an early age.
Working ability & sound structure We do not breed for the breed ring - we breed a correctly structured dog who is extremely athletic, coordinated and able to work. Accompanying a sound body is incredible intelligence and desire to work - however, we do not breed dogs with excessive drive that are difficult to live with. First & foremost, these are companion animals, and no matter how brilliant, you still have to live with them! However, these are not German Shepherds that are usually well suited to the first time GSD owner as they can be very intelligent, persistent and active; experienced GSD owners preferred.
Beauty & nobility While trying to breed sound dogs, we have not sacrificed the beauty or nobility of a proper German Shepherd. These are not just great dogs - they're also truly beautiful & kind!
Sound bodies & excellent health. As any GSD lover knows, this is a breed plagued with many health problems. While we don't breed perfect dogs, we try hard to minimize health problems, and have produced only a few. We are glad to share the specifics of the problems in these lines. Our breeding dogs are OFA certified for hips, elbow.
Health Unlike most breeders, we will tell you exactly what health problems we have had in the past, and stand behind our dogs 100%. Our all-natural diet (homemade for 25 years) may be the key to our good luck in this area. We encourage puppy buyers to feed naturally, and use minimal vaccination protocols. We also recommend late spaying/neutering to allow animals to fully mature, and where possible, would prefer vasectomies for males who are not kept intact for breeding.
Longevity is a difficult thing to breed for, but here's the proof that we're on the right track. In late May 2004, we lost our beloved Hawks Hunt's Carson at 2 months shy of 15 years old. Her sire, Bear, was also nearly 15 when he died. It was and once again is an amazing thing to have 4 generations in the house with Carson and her kids, grandkids and great-grandkids! Otter was the "great-grandma" dog, with her kids, grandkids & great-grandkids here. She turned 15 in March 2009, and died in July 2009. However, we have had dogs who did not live that long. It appears that 12-14 years seems to be the typical lifespan for our lines.
Share this article
Related Posts