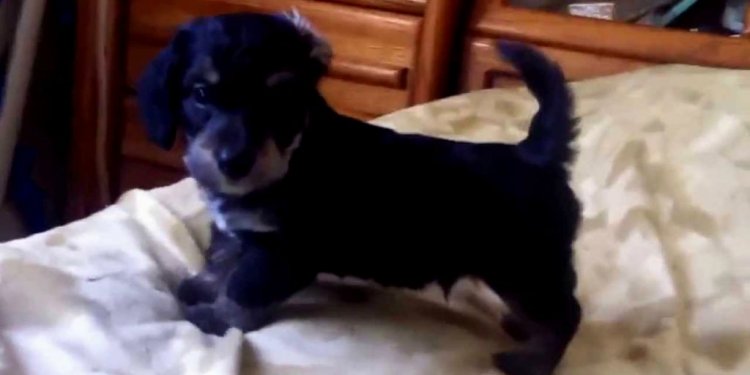 Puppy German Shepherds for free

Their mom's belly in search of milk. The new mom is usually very excited and concerned about each newborn, and sometimes overly enthusiastic about chewing off the umbilical cord, which may later result in an umbilical hernia that will take a little longer to close, but is no danger to the puppy.
Once we see that the new puppy is happy, active, dry, and nursing nicely, we will place a colored ribbon on his/her neck, and weigh the little one. We record the ribbon color and weight of each puppy so that, when we weigh the pups throughout the next days and weeks, we can make sure that each one is gaining weight. Normal weight for a newborn German Shepherd puppy ranges from 370g to 600g (0.8 lbs – 1.3 lbs), with the average being around 1 lb.
We take great care to ensure that our newborn German Shepherd puppies have the best chance for a healthy start. A German Shepherd female can be in active labor for 6 to 18 hours, sometimes even longer if she takes a break while having a large litter, and we of course do not leave her side during this time. I stay up making sure that the whelping box (which is always in my office or bedroom) is clean and dry after each puppy is born, and that the temperature stays constant 86 - 88 F in the room. We keep the temperature at this level for about 2 weeks, gradually reducing it down to normal (65-80F) by the end of the third week.
Someone is always present with the puppies during the first 5 days. I normally stay in the office, doing some German Shepherd research, working on my website, or just watching movies online – all day long with brief 3 minute breaks now and then. Chad, my husband, usually takes on the "night shift" and sleeps in the room with the pups, so that he can wake up in case someone gets stepped on by the mom, and also to check on the air temperature periodically.
I handle the puppies several times a day, as well as weigh them every other day during this period, to make sure that everyone looks and acts healthy, nurses well, and is gaining weight. I usually buy a dozen fluffy cotton towels, and use two at a time as bedding for the whelping box. Being 100% cotton, these towels provide natural warm support and a good gripping surface for puppies' feet when they move about. I change these towels twice daily at this stage to make sure the puppies are always clean and dry.
Starting from day 3, and until day 16, I follow The "Super Dog" Program for our puppies - an early neurological stimulation program described by Dr. Carmen Battaglia. It has numerous benefits later in life for puppies.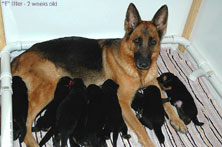 By the end of the 1st week of life, German Shepherd puppies usually weigh 730g – 970g (1.6 – 2.1 lbs), approximately doubling their weight. Often, puppies that were born the smallest overtake the bigger ones. Even at this tender age strong individual differences can be noted among German Shepherd puppies. There is usually the feisty one, who practically "runs" around the whelping box, and the fat one, and the cry-baby, and the cuddly one, etc. Also, there is difference in their color and markings, and long-hair German Shepherd puppies can often be identified at this age. 1 week old German Shepherd puppies still cannot see or hear, and although very mobile and active, their getting about cannot be called walking just yet.
The new mom is very attached to her puppies at this age and is very reluctant to leave them even for the shortest time. She usually develops a "wolfy" appetite and eats about 3 times her normal ration, with lots of tasty "extras" added such as liver, extra chicken backs, and egg yolks, all needed to support the increasing demand for her milk. She spends a lot of time sleeping with the puppies nursing peacefully, and is also very happy to be busy cleaning each puppy several times a day and flipping them around gently with her nose.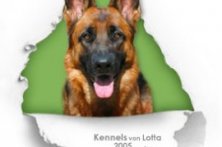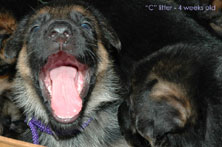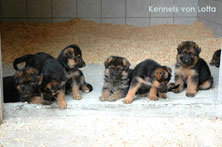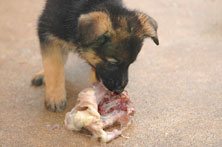 Share this article
Related Posts