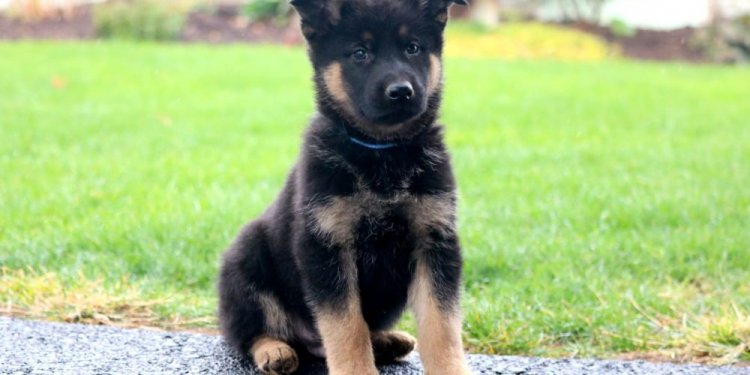 Pictures of German Shepherd mix puppies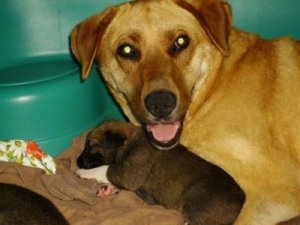 "This is Padme (pronounced Pad-may) our Golden Lab hybrid. She found me in a parking lot when she was only about 6-8 weeks old. She is now 6 years old. What makes her amazing is that she is a very loving, calm, easy-going dog whose whole goal in life is for you to pet her. She ended up pregnant (oops!) at 5 years old and had 8 beautiful and healthy girls who all have had about the same temperament as her. They are Golden Lab / German Shepherd mixes. We kept one and named her Sock Monkey."
"We do apply Cesar Millan's techniques to all 3 of our dogs. Not only are my husband and I pack leaders, but our children as well. Our 9-year-old daughter has no problems walking Padme because of the techniques we have all learned. All of our dogs now know what is expected and are well behaved."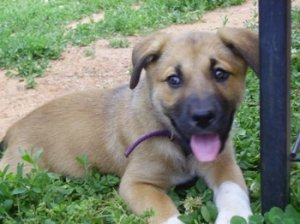 Sock Monkey the Golden Lab / German Shepherd mix puppy
Vinnie the German Shepherd / German Spitz mix
On the left is 3-year-old Baby Girl (Nova Scotia Duck Toller / Pit Bull mix) and on the right is 2-year-old Porthos Buddy Boy (Beagle / Black Lab mix): They are both rescue puppies, and love each other very much.
Misha at four months old, a Chi-Maltipoo—a combination of a white, long-haired Chihuahua and a Maltese / Toy Poodle
Jessie Grillo, Miniature Schnauzer / Jack Russell Terrier mix (puppy)
Nari (nar-ee), a Nova Scotia Duck-Tolling Retriever / Golden Retriever mix
Copper at 11 years old—he is the same height as his mother (American Eskimo Dog). He is a German Shepherd Dog (father) / American Eskimo Dog (mother) mix.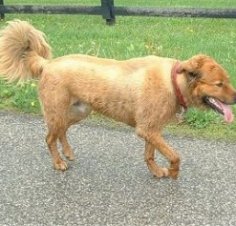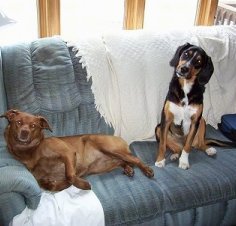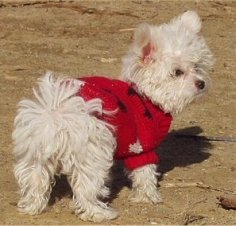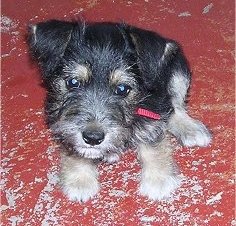 Share this article
Related Posts