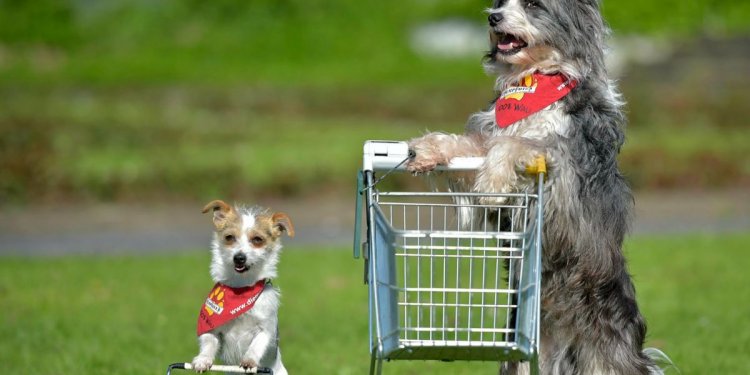 Breeds of Shepherds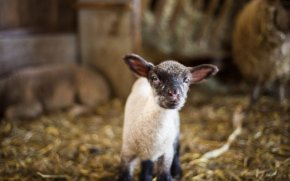 Nancy MacMillan is an avid knitter with an interest in Rare Breeds and working with wool straight from the source. Pam Heath is a Shepherdess whom Nancy first met at the Ottawa Knitting Guild some years ago. Pam is a wonderful resource for all things Rare Breeds, and she and Elwood Quinn (who jointly run Quinn Farm) kindly agreed to do a Q&A with Nancy for Wovember. Pam and Elwood are listed on the Rare Breeds Canada website. The mission of Rare Breeds Canada "is to make Canadians more aware of their agricultural heritage and, through education and niche marketing, involve them in conserving endangered breeds of farm livestock and poultry". We really felt we couldn't do a week about grassroots action without some grazing sheep, so here is Nancy's post about some of the work taking place on Quinn Farm to preserve some of Canada's heritage sheep breeds and their wool; thank you for your writing and research!
About the farm and rare breeds
Q: Pam and Elwood, thanks for agreeing to answer questions about shepherding, running your farm, and your great passion: Rare Breeds. Can you tell us a bit about how you got into farming?
A: We both grew up on mixed Dairy Farms, which also raised sheep, pigs & chickens. There's a photo of myself (Pam) barely sitting up, at 6-7 months old, on the kitchen table with a new-born lamb beside me. It must have been brought into the house briefly to warm up. Elwood's family had Corriedales & Suffolks and showed them when he was young.
Q: I have known some Shepherds to be alone in their passion for sheep and it is a joy to see two people who love the animals as much as the two of you do. Watching Elwood educate visitors about being gentle with the sheep, how to pet them and how not to scare them and cause them undue stress was wonderful. Have you found it helpful to have a partner to bounce things off when difficulties arise on the farm? Has he always been as passionate about Rare Breeds as you are, or has he caught your passion along the way?
A: Way easier, for sure. We really appreciate you noticing that and mentioning it here. Thank you. We arrived at this moment from two completely different worlds. I grew up in England and emigrated to Manitoba with all my family in 1980. Elwood grew up in Greely, in the Ottawa Valley and moved to QC.to work at MacDonald College in Horticulture in the late 70's. He had previously worked at the Central Experimental Farm in Ottawa, in various research in livestock & horticulture husbandry. One of the many projects he helped with was the development of the Arcott sheep breeds.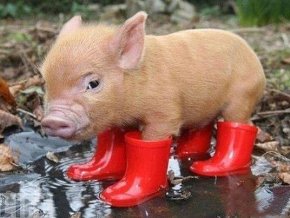 Elwood made his living from farming or jobs in his youth related to farming. I went to Art School after leaving High School, then morphed back into farming after a spell away from it… but as the saying goes, you can take the girl out of the country but you can't take the country out of the girl.
I strayed away from your question a little bit… We met when we were both RBC Directors and shared a huge amount of passion for these rare breeds and promoting them… the rest is history. Our days are filled close to 100% with RBC activities, from our own animals to helping run RBC since it's entirely voluntary… as Elwood says, we don't smoke or play golf, so we do Rare Breeds!
Q: How large is your holding, Quinn Farm in rural Quebec, Canada? When you found your farm, how did you know this was the place you wanted to begin your journey into the WOOL world? How many years have you been Shepherds?
A: 110 acres. Elwood's farm is on the west side of Montreal, twenty miles west of Trudeau airport. It's a U-Pic fruit & vegetable farm primarily, with close to 100, 000 farm visitors annually, so it's a very public farm. We've been around sheep between 50 & 60 years… now you know how old we are!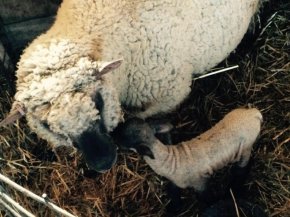 Q: How many Rare Breeds do you have on your farm? Can you list them for us?
A: Milking Shorthorn team of oxen. Chantecler, Buff Brahma & Hungarian Yellow chickens. Cotswold & Shropshire sheep. Berkshire & Hampshire pigs.
Q: Do you have a favourite breed amongst these Rare Breeds?
A: I hope this is not limited to a one word answer! Elwood's would have to be the Hampshire pigs since he grew up with this breed, though he has a special spot for his Berkshire sow, she's a real beauty. Mine would be Guernsey cattle but I'll settle with our Shorthorns, my second-most favourite. I really enjoyed the Tamworth pigs when we had them too. We both adore the Shropshires we have because of their very old bloodlines… it's the most difficult question to answer, and as you can see, it took more than one word.
Q: Do you find it very difficult spreading the word about the importance of keeping Rare Breeds off the endangered list? How do you personally spread the word? Has technology made it easier for you?
A: Globally there are so many breeds that need help, it's challenging to know where to start & end. We are losing far more breeds of farm-livestock than anything in the wild… which is difficult to imagine, but very true… and these are the animals that put food on our plates and wool on our backs. The RBC website & FB page are hugely helpful. The displays, presentations & fairs we attend are where we get the opportunity to interact directly with the public.
Q: What does being a member of Rare Breeds Canada entail? Has the organization been a good resource when problems arise with the breeds that you raise? And as the way in which you work with Rare Breeds Canada changed in any way since you began your association with them?
A: Membership includes a listing on the Breeders Directory which helps breeders find each other and their potential genetics across this vast country and the advancement of social media has helped connect people and spread the word. I also came to live in QC for three years so I feel quite at home in the east as well as the west now.
See also:
The ball travels Live Casino in a track on the edge of the wheel - livecasinoslots.org.
Share this article
Related Posts