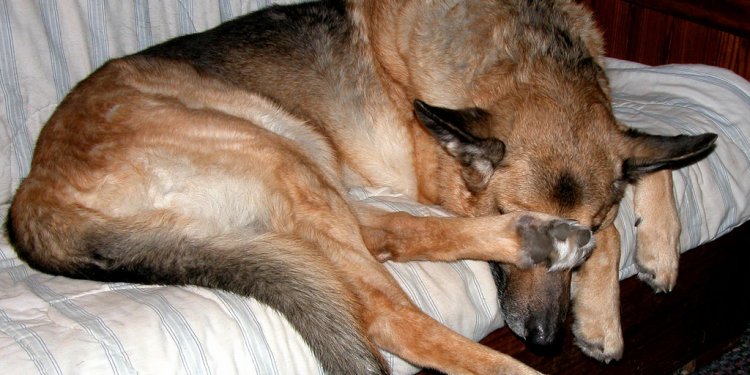 Black Paws German Shepherds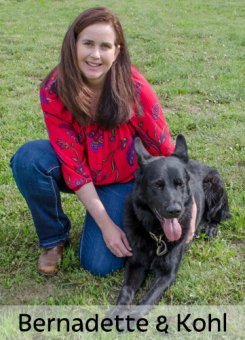 Training with Trust and Respect
Bernadette Pflug (Certified Professional Dog Trainer) has been studying dog behavior and training dogs for more than 20 years. Her philosophy is simple. Improve the life of both family and dog. With training your unruly pooch can be transformed into a loving and controllable family member. He'll be happier because he is no longer getting into so much trouble all the time! Your family will be happier because the dog is no longer a source of frustration, but instead a source of enjoyment, comfort and love.
What does is take to make your dog happy? He will thrive when you give him leadership and attention. This formula will help you to build a relationship with your dog, based on mutual respect and trust. You can have a relationship with your dog deeper that you ever imagined and Bernadette can show you how. With her training, you will have a happy dog and a happy family.
What makes for a happy family? Families typically want their dog to:
Come when called, every time, on or off leash
Walk nicely on leash, without pulling
Sit the first time you ask
Lie down the first time you ask
Families also want their dogs:
Not to jump on people.
Not to charge through doors
Not to dig in the yard
Not to bark and chew inappropriately
Not to climb on furniture you prefer they avoid
Not to steal food off the table and counters
Not to be wild and uncontrollable
Not to ignore you when you want their attention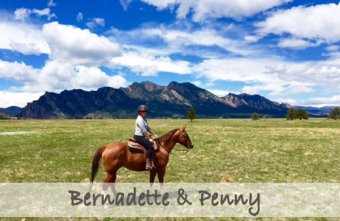 Bernadette is experienced with many gentle training techniques, enabling her to customize a training plan that works for your individual dog. Since no two dogs are alike, a cookie cutter training approach doesn't work for every dog. From Chihuahuas to Great Danes, Bernadette has trained them all. She specializes in functional obedience, behavior modification, severe behavioral problems, natural dog behavior and psychology, large field socialization, rehabilitating aggressive dogs and off leash control.
Her credentials include:
In order to stay current on the latest training techniques and animal behavior research, Bernadette attends various seminers and workshops throughout the year, taught by some of the top professionals in the field of dog training.
She has handled dogs and been featured on Animal Planet, Channel 9 KUSA Denver, WB2 News Denver, Dog Fancy magazine, Equus magazine and the Denver Post.
Bernadette is also an accomplished equestrian and currently competes in both Western and English riding events at American Paint Horse Association horse shows across the country. She is also an avid trail rider and can often be found enjoying the Colorado mountains on horseback. Bernadette studies natural horsemanship and applies many of those techniques in her work with dogs.
Bernadette became passionate about training when she got her first really challenging dog "Ranger". Her German Shepherd puppy, had serious separation anxiety and a great desire for a job. After destroying Bernadette's house several times, she discovered an occupation he loved: Search and Rescue. With an outlet for his energy, Ranger stopped his destructive behavior and soon became Bernadette's trusted partner on search missions. Bernadette and Ranger certified as a wilderness trailing team, assisting local law enforcement and other SAR teams around the state in locating lost hikers, children, Alzheimers patients and others. Trailing is when a dog roughly follows the path a person has walked. Each person deposits their unique scent wherever they go and with the use of a scent article(anything worn close to the body) dogs are able to pick out that specific person's scent.
After an outstanding career as a search dog, Ranger passed away on September 16, 2007. He is greatly missed.
Share this article
Related Posts