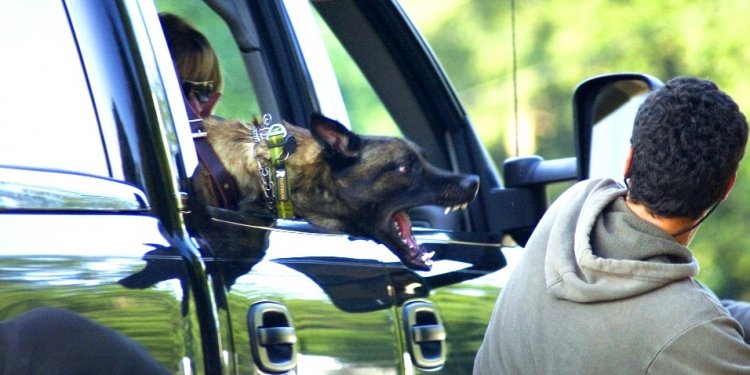 Dog Training for German Shepherds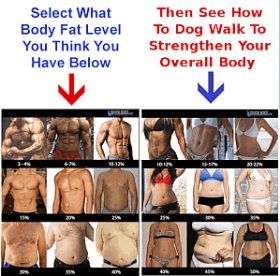 Consideration too.
What is the right dog training?
The kind of training that matches your training goal ("Why do you want to train your dog at all?")
The kind of training that matches your dog's personality
Why not your personality and your dog's training goal? Because your dog doesn't have a goal for your training. And because your training goal may not match your personality.
The German Shepherd Dog personality is what has been bred into this dog for hundreds of dog generations (if not more): The GSD has been bred to be able to manage a large herd of sheep or other cattle all alone! Keeping the herd together, bringing strays back to the herd, supporting the weak members, limiting the boisterous members, defending the herd against all kinds of attackers, etc.
And your training goal is ... well, I can't know, can I?
Until you write your training goal below in the comment section... let's continue here with what our training goal is at MYGERMANSHEPHERD.ORG: To build the BEST relationship with our dog. This goes way beyond dog training, yes, but never mind, we love to set the goal high, there is too much mediocrity on dog-related websites already.
Now, the key point to understand is: Regardless what your training goal is, if you also want to meet the second premise (to match your dog's personality) then you cannot choose a kind of that ignores this dog's own management skill! A kind of training that ignores what this dog is made for and meant to behave like: to manage, to organize, to decide and to act autonomously.
Thus for German Shepherd training (as a minimum) we would be misguided if we followed the herds of dog trainers and applied Obedience Training to our GSD. Or any kind of dog training that is heavy on dog commands and sparse on the trainer's self-reflection.
The Problem With Professional Dog Trainers
It really is odd, the majority of dog owners don't want to spend any money on their dog (other than for crappy commercial dog food), and many end up with a dog that controls them (rather than that they control their dog)! And a minority of dog owners want to spend money on dog training, and most of them end up with a dog trainer that is as crappy as the "food" that the first group is feeding their dog.
Tough words?
Well, no. You don't get the dog owner HELP! requests (like that!) who lament that their or their trainer's dog training doesn't work out. We get to see it all. And more than a few dog owners write that they have already paid several dog trainers, and yet their dog "does not behave any better!"
Why is that? We can only guess, can we? It's because most professional dog trainers prefer to copy from each other, rather than to put some brain into it to come up with real solutions. Examples? Sure:
Using a specific collar: inept copy, no real solution
Using a specific leash: inept copy, no real solution
Using light kicks in the rips: inept copy, no real solution
Jerking on the leash: inept copy, no real solution
Hitting with... (whatever!): inept copy, no real solution
Shouting at the dog: inept copy, no real solution
"Nothing in life is free" (NILIF): inept copy, no real solution
"Lure-Reward training": inept copy, no real solution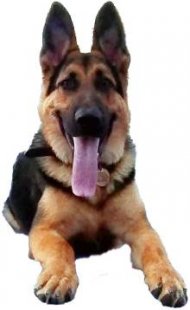 Ad Network: Dogs, Health, Food, Exercise, Protection
Dog owner mistake
In addition, too many dog owners treat their "pet dog" almost like a human child, and they expect similar reactions as from their child. But no matter how attentive and smart your GSD may be, always reflect that your dog is an animal after all, with special animal needs, animal perception, and animal psychology.
Nonetheless, a dog too wants to be part of the Pack, requires its own territory, and wants to be accepted. In addition, your German Shepherd will try to dominate you if you let the dog, because as per genetic predisposition a German Shepherd controls, manages, and guards the herd.
German Shepherd Training
If you seek to avoid spending hundreds to thousands of dollars on formal "puppy classes", "Canine Good Citizen" and "Obedience" courses, be aware that you can do all the German Shepherd training yourself, and better than most professional dog trainers will. Had you booked our Dog Expert Interview Series with Reviews then you would know why professional dog trainers learn to teach dog owners means of dog training that they would never apply themselves! Better read that sentence again to fully take in the implications for yourself in case you are ever going to book a professional dog trainer.
And learning dog training only from books isn't going to bring sunshine and a smile on your face either. Seeing all live in videos is. See The Online Dog Trainer Doggy Dan with his video training series. He is a TOP dog trainer, we can attest that, and he for once teaches dog owners means of dog training that he does apply himself.
Share this article
Related Posts