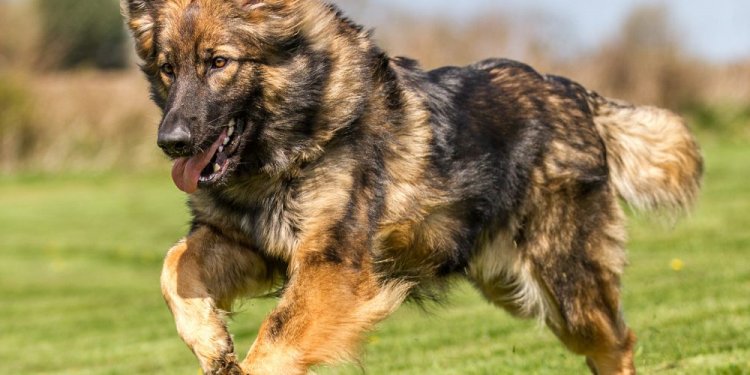 Labrashepherd puppies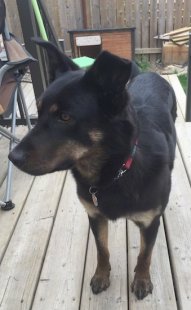 Other Names
Labrashepherd
Sheprador
Description
The German Sheprador is not a purebred dog. It is a cross between the German Shepherd and the Labrador Retriever. The best way to determine the temperament of a mixed breed is to look up all breeds in the cross and know you can get any combination of any of the characteristics found in either breed. Not all of these designer hybrid dogs being bred are 50% purebred to 50% purebred. It is very common for breeders to breed multi-generation crosses.
Recognition
DRA = Dog Registry of America, Inc.
IDCR = International Designer Canine Registry
"Thena is a 4 year old Sheprador. She has an insane ball drive and as such is incredibly easy to train. She is great with other dogs and with people (including kids). Loves chasing a ball into the water and is eager to please. Her double coat requires a good brushing at least every week in the summer time, but she tends to stop shedding in winter. Not really an apartment dog. This dog will keep you busy!!"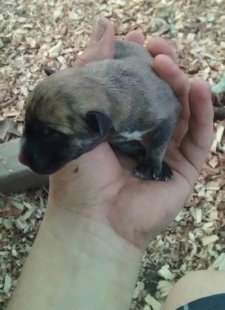 "My dog, May, is a 2 year old black Lab that bred with a German Shepherd. This is one of her newborn babies who we named March"
Bug the German Sheprador at 12 years old—"Bug was about as smart as they come. She understood many words and could swim, play ball and balance on a beam. She loved people and other creatures but was ready to stand her ground if necessary."
Taz the German Sheprador at 10 years old—"Taz is a German Shepherd / Yellow Lab mix. He goes ballistic over the snow and the water. He'll show the playfulness of the Lab and the intelligence of the Shepherd, and is very good at trying to sneak away for walks on his own. He's been one of the best dogs we've ever had and he's gorgeous! I am involved with a program called Freedom Tails. I have been the Editor and Photographer for the newsletter since 2009, along with every other aspect of the program. Even becoming an AKC Good Citizen Evaluator last year. The program is located at Stafford Creek Corrections Center, a men's prison of approximately 2000 offenders, in Aberdeen, WA. We bring in shelter dogs that might otherwise be euthanized, retrain them in social skills and basic commands, and get them adopted back out to society. At this time, we have found new loving, forever homes for over 250 dogs."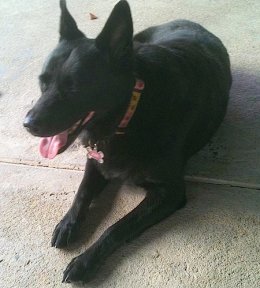 Taz the German Sheprador at 10 years old
Taz the German Sheprador as a puppy
"This is Roy, our yellow Lab / German Shepherd at 6 years old. We have had him since he was about a year old. He is extremely friendly and very affectionate. However, the combination of these two breeds has led to excessive shedding. Brushing every day almost isn't enough! But he enjoys every minute of the attention he gets when being groomed. He is very well tempered, keeping playtime in the house to a minimum, but acts like a puppy again once he gets outside."
"Dexter is a confident 3 year old Labrador x German Shepherd with very good social manners. At this age he already calmed down a lot and is much easier to handle than when he was 18 months old. He still needs a lot of exercise but is also happy to have a nap on the sofa instead. Dex is very friendly but I wouldn't say he's the cuddliest dog on earth :) he likes some fuss but without excess. Now as he matured he likes having his own place where no one disturbs him. He's much less clingy and although still likes to keep an eye on me, he doesn't insist to be my shadow any more. He's colour (black & tan with black mask & brindle) is not something you'd usually see in the cross but can happen. He's 77 pounds (35kg.)"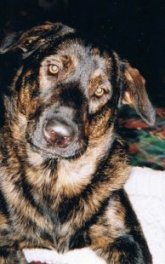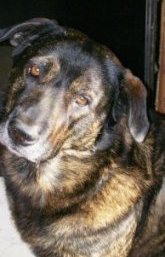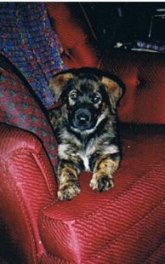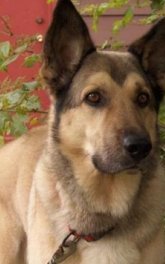 Share this article
Related Posts