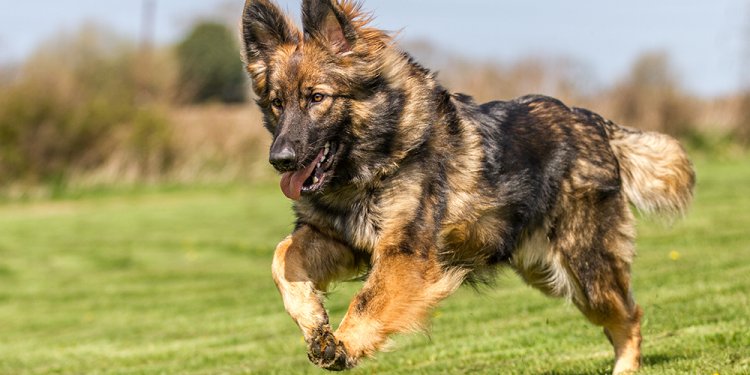 GSD breed
Demands are growing for the organisers of Crufts to explain why they allowed an apparently deformed dog to not only enter the competition but also win its category – six years after promising to reform its judging criteria amid a similar outcry.
The Kennel Club was accused of cruelty after a German shepherd with an "abnormal" back and awkward gait won Best of Breed over the weekend.
Many viewers complained after watching three-year old Cruaghaire Catoria. A TV commentator said the dog appeared "unsettled" while the RSPCA said it was "shocked and appalled" to see a dog with "such poor" shape that it "could not move freely, winning Best of Breed".
Following the complaints, Channel 4 cut extended footage of the full parade around the judging circuit from footage broadcast.
Susan Cuthbert, Catoria's owner who breeds Cruaghaire dogs with her husband Stuart in Cardenden, Fife, responded: "I am both deeply shocked and terribly upset by all the horrendous comments directed towards my beautiful Tori. The comments made on television about my lovely shepherd were unbelievable especially when one considers the brevity of the images. How can you judge a dog on such a brief observation? There is a clear lack of tolerance and knowledge of our German shepherd breed."
Mrs Cuthbert said her dogs are bred to the German "SV" standard, the strict breed guidelines set up by Max Von Stephanitz, the "inventor" of the German shepherd in the late 19th century.
"Soundness in mind and body is a crucial part of the German shepherd breed, " Mrs Cuthbert said.
THIS is the best of breed for the GSD?! Seriously?! Look at that back! How is that healthy?! #Crufts125 #crufts2016
— Cat The Vet (@Cat_The_Vet) — Lindsey Macdonald (@Linzimac519)
If my dog stood and moved like the German Shepherd who won best of breed at Crufts, I'd be taking them to the vet...
— Sam Maher (@dottyteakettle)
German shepherds are working-pedigree lines and generally retain the traditional straight back of the breed. They are often used as service dogs in police and military search and rescue missions due to their strength and intelligence.
They look markedly different to show-lines and the contrast was raised in 2008 by the BBC documentary, Pedigree Dogs Exposed, which compared the shape of working-line and show-line German shepherds.
Crufts dogs are crazy agile
The presenters said that critics of the breed describe it as "half dog, half frog" while an orthopaedic vet remarked on footage of dogs in a show ring that they were "not normal".
Two years later The Kennel Club decided to retrain judges to penalise dogs suffering similar problems.
Caroline Kisko, Kennel Club Secretary, said: "We will be looking at what support we are giving to particular breeds to ensure continued improvement."
A Crufts judge who awarded a prize to a dog co-owned by her sister did not break any rules, organisers say. The Kennel Club said Gordon setter James won a string of awards at this year's Crufts even before he was named best-in-group by judge Di Arrowsmith, sister of James's part-owner Josie Baddeley.
See also:
Share this article
Related Posts