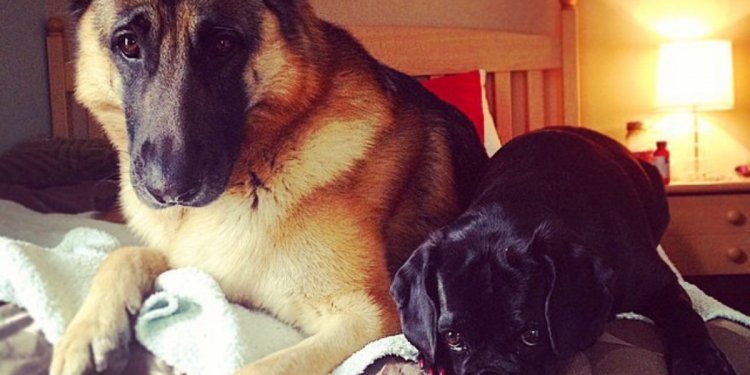 German Shepherd with other dogs
Socialize and educate him/her from puppyhood
Karen said: "Yes"
She is nervous at first but in time she makes friends
Nancy said: "Yes"
Those introduced when brought home as a puppy are great. As mine matured, introducing new dogs was monitored and done slowly.
Barb said: "Yes"
Socialize them when they're young
Wenfy said: "Yes"
The one she grew up with mostly, she likes other ones that are playful. I don't know how she would do with an aggressive one.
Dana said: "Yes"
Socialize them with other dogs early and keep it up. Go to the dog park, doggie day care. This will help expend their energy. I also check with new people we see when on walks, asking if their dog is good with meeting new dogs. Then carefully introduce them. If there is obvious tension, don't but if they seem to be interested, let them greet each other. We have lots of dogs in our neighborhood we greet and even walk with now.
Joyce said: "Yes"
I took my dog to Obediance classes.
ashli said: "No"
make them be around other animals when they are pups
linda said: "Yes"
not really.
elaine said: "Yes"
dont avoid others dogs when out should it bark or get aggressive be firm and make sure she/he realises that the dog was not a threat and that she/he had misbehaved
Naomi said: "No"
My German Shepherd does not like small dogs? I rescued her from being a continual breeding dog and she refuses to let small dogs share the same space with her. She will attack them. I'm constantly keeping an eye on Dakota - my Shepherd around the smaller dogs. If anyone has any great advice to help Dakota around smaller dogs, please advise me!
Myrle said: "Yes"
Socialize them early and allow them to play with other dogs.
Deb said: "Yes"
Socialize early and a lot
Cheryl said: "Yes"
Early socialization
Lin said: "Yes"
Socializing is important with all breeds.
Liz said: "Yes"
socialise from young with as many different dogs as possible
Linda said: "No"
I only let my dog play in a controlled environment like doggie daycare. Dog parks are not a great idea for a German Shepherd not every dog is well behaved and neither are the humans. Your German Shepherd has a very good memory and will pick up bad behavior s fast.
Share this article
Related Posts