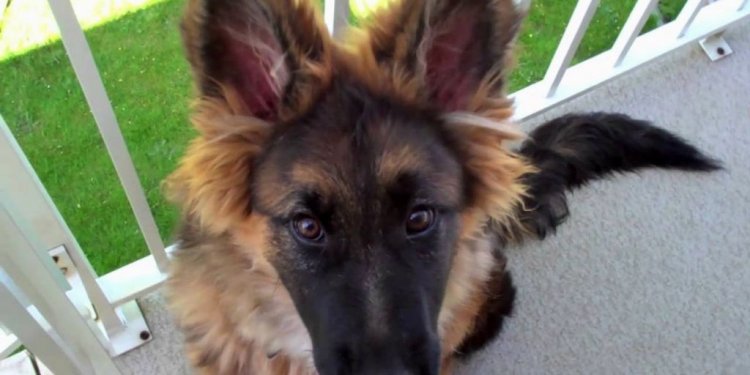 Short haired German Shepherd puppies
We aren't going to lie – Grooming is a little bit easier with standard coat puppies.
Our large, standard coat German Shepherd Blue is what likely what you think of when you think of a German Shepherd Puppy. He has a very distinct look to him, awesome structure, and a beautiful coat. His coat is not too short, but certainly isn't long. It is soft to the touch and smooth to pet. Olive is still considered a standard coat, and she has even softer fur. Her's is also a bit more "plush."
Owning a German Shepherd Puppy is an awesome experience. While some dogs are known for fetching, some are known for hunting, some for tracking, and others for obedience – the German Shepherd Dog has it all. If owners invest in their German Shepherd Puppies properly, they will have a lifelong friend that is a joy to be around. German Shepherd Puppies have high drive, so it is important to train them how to use that drive in a positive fashion while they are young.
We believe that it is important that we mention these things to you now if you are thinking of getting one of our German Shepherd Puppies. While every one of our puppies always has a home at our kennel if it doesn't work out at their new home, we never want to have a puppy back. Our commitment to making sure our puppies live in good environments is so strong that if you no longer want the puppy or dog, we will pay for you to ship it back to us. While we will not refund the purchase price unless there is a serious physical or behavioral flaw, we will always take our dogs back. Should you decide to purchase a puppy from us, you will see it written in the contract that you must notify us if you can no longer keep the dog. It is our nightmare to imagine one of our German Shepherd Puppies in a shelter.
We care about where every one of our German Shepherd Puppies go for the remainder of their lives.
The reason we discuss this here is that we want you to think hard before adopting one of our German Shepherd Puppies or any puppy for that matter. Owning a dog is a serious responsibility. It's a good idea to read our post on 10 things you should consider before getting a puppy.
Remember, if you are a good family, we want to give you one of our dogs. And we hope that you want to get your puppy from a breeder that takes the future of their puppies very seriously. We breed German Shepherd Puppies because we want to share the joy that our dogs have brought to our lives with you, not so that we can make money. We do it because we love it!
Chances are, if you've gotten this far, you're ready for a puppy. We are excited to start working with you! Our German Shepherd Puppies make amazing companions and we can't wait to share them with you. Please feel free to get in touch with us to start talking about getting the right puppy for you. We can't wait to get to know you!
Share this article
Related Posts