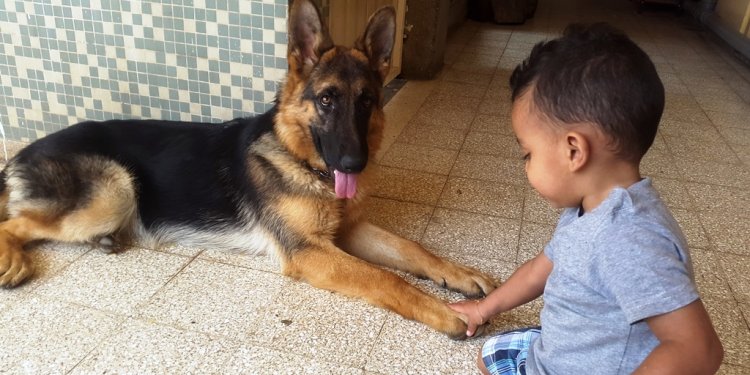 Long haired German Shepherd female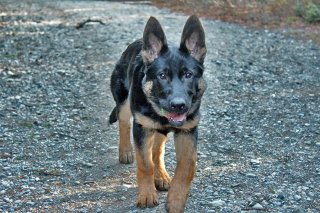 Energy. Energy. Energy. And pure, unrestricted happiness. Welcome to Emeralds world. We are breeders of Large German Shepherds in Alaska and Emerald is one of our females. She is the happiest German Shepherd we have ever seen. She is a creation that is beautiful to look at and fun to be around.
As far as our Large German Shepherds in Alaska go, Emerald is an energetic one! She's responsive to commands and obeys well, but is SO excited to do whatever you tell her to that she gets it done as fast as she can, no matter what is in her way. Emerald loves to use her nose and is incredibly agile. Many German Shepherd Puppies excel at agility, but we are pursuing it slowly with Emerald to make sure that her bones grow healthy and strong.
Like many other German Shepherd Puppies, she will chase a ball until one of her feet falls off. Emerald is a sweet girl and never wants anything to be negative with anyone. She's never had a desire to be even close to an Alpha position at our Kennel and she will play with ANYONE. Her breeder, Elizabeth, truly created a work of art in Emerald. Believe us when we say, we looked all over to find our stock for our Large German Shepherds in Alaska, and we are really, really happy with what we got in Emerald.
If you have a family but still want a Large German Shepherd Dog, you might want to consider one of Emerald's litter. Although all of our puppies are certainly family friendly, Emerald and her offspring will be especially delightful. Imagine if you have a child and you just moved to a new neighborhood. Some kids start playing football in the street and your child knows none of them, but runs out to play anyways and has 30 new friends at the end of the day. That is Emerald.
Of our current females, Emerald is the smallest. She is still a large German Shepherd Dog, but she is the smallest of the ones we have (someone has to be!). This is a good thing and a bad thing, depending on what you are looking for as you're looking at German Shepherd Puppies. Feel free to contact us and we can talk more about it.
Oh, and, for the record, Emerald is Theresa's favorite!
Read our article on 10 Things You Should Consider Before Getting a Puppy as you work through the process of deciding when the right time is for a new family member. The most important thing to us as German Shepherd Breeders is that our dogs go to homes where they will be happy, healthy and create strong bonds with their owners. Make sure you wait until the right time for you!
Share this article
Related Posts